How This New Aesthetics Treatment Works On Lines And Skin Sagging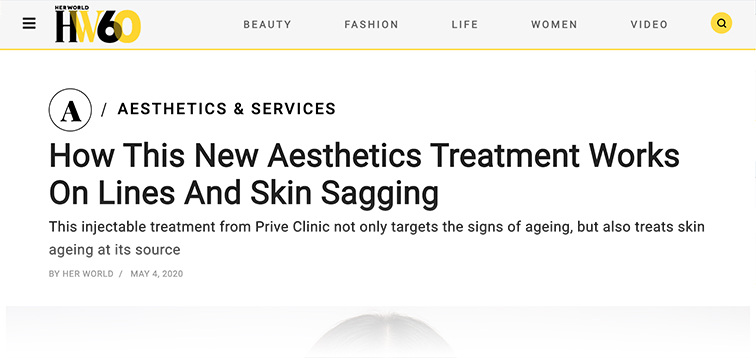 This injectable treatment from Prive Clinic not only targets the signs of ageing, but also treats skin ageing at its source.
Everyone wants to look youthful. Unfortunately, ageing is inevitable. But that doesn't mean all is lost and that you should just let your looks go. There's a new aesthetics treatment on the block called Profhilo.
Named one of the most popular anti-ageing treatments in Europe in 2019, it's an injectable treatment that uses hyaluronic acid to address skin laxity, and collagen and elastin loss.
Working from deep within
The patented technology is said to stimulate the production of collagen, elastin and even fat stem cells – what doctors call bio-remodelling. In fact, Profhilo is the only hyaluronic acid injectable that is reportedly able to do so.
Here's what makes Profhilo so unique, especially since injectables aren't new on the market: While both skin boosters and dermal fillers use hyaluronic acid as a base, they work differently from Profhilo.
Skin boosters replace lost hyaluronic acid and restore radiance, while dermal fillers are used to replace lost volume in the skin.
On the other hand, Profhilo uses both high and low molecular-weight hyaluronic acid to remodel the skin tissue at its different layers – the epidermis, dermis and even superficial fat compartments.
The hyaluronic acid is injected deep into specific parts of the face using what's called the Bolus technique. These injection areas are called the face's Bio Aesthetics Points (BAP) and have no large blood vessels, which helps minimise the risk of bruising. Only five injection points are needed on each side of the face.
Injecting hyaluronic acid into the skin this way allows it to slowly be released into the optimal skin layer. From there, it spreads evenly to get to where it's needed the most. In short, minimal discomfort for maximum effect.
The result: a smooth, supple and youthful-looking complexion, with little downtime.
For best results, two sessions, four weeks apart, are recommended so that you don't overload or irritate the skin. But expect to see the full effects 12 weeks after the first treatment as the bio-remodelling process takes time. Results are said to last up to six months.
Better together
Profhilo doesn't just offer good results as a standalone treatment, it plays well with other aesthetic treatments too.
Combined with energy-based treatments like Ulthera and Thermage, Profhilois able to enhance skin's lifting and firming results. Ulthera uses ultrasound to lift skin while smoothing lines and wrinkles, while Thermage uses radio frequency to tighten skin by boosting collagen production.
But for a truly smooth and radiant complexion, your doctor can pair Profhilo with Pico Laser. Together, these two treatments not only make the complexion more even, but also help in tissue repair, reducing the appearance of scars and pigmentation.
How does it work? The Pico Laser uses laser light that is delivered in pico-seconds. These super-fast bursts of light energy break apart melanin pigments in skin, turning them into fine dust-like particles, which is easier for the skin to remove.
And because the light energy moves at such an extreme speed – one trillionth of a second, to be precise – the skin doesn't heat up as much, which reduces the risk of inflammation and further hyper-pigmentation, while causing no damage to the surrounding areas.
Written by Her World
Source: https://www.herworld.com/beauty/aesthetic-and-services/prive-aesthetics-treatment-anti-ageing-profhilo/