Profhilo is the New 'Tweakment' You Need for Youthful-Looking Skin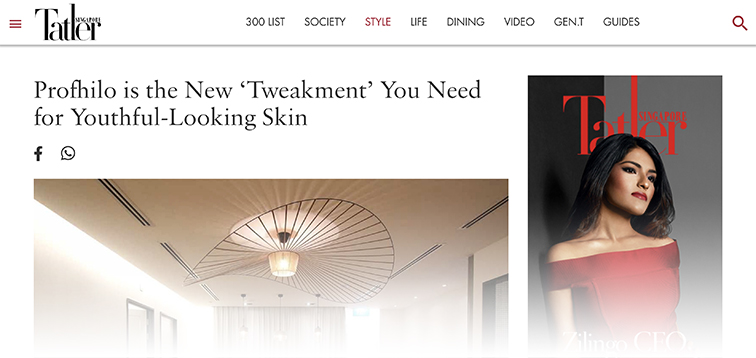 It's neither botox nor filler—what to know about this hyaluronic acid-based injectable
From Botox and fillers to skin peels and laser treatment, 'tweakments'—non-surgical and minimally-invasive treatments—have been increasingly popular not for their ability to dramatically transform faces, but rather to subtly enhance features and restore youthfulness and radiance.
Amongst the latest, up-and-coming anti-ageing treatments, is Profhilo, a hyaluronic acid (HA) injectable.
Not quite like other injectable 'tweakments', Profhilo counteracts wrinkles and sagging skin through the bio-remodelling of collagen and elastin structures in the skin to improve hydration and plump up your visage—but is it better?
"One main advantage is that Profhilo requires fewer sessions to be done, and provides even higher amounts of hydration," says Dr Gerard Ee, medical director of The Clifford Clinic. The aesthetic clinic at Raffles Place is one of the first clinics to bring in the highly-raved treatment to Singapore.
"It has almost no downtime as compared to fillers, skin boosters or Rejuran healer but they each serve different functions. HA fillers help to contour and augment facial features by restoring volume to the face and are suitable for any age group. Skin boosters are best for dry and dull skin to hydrate and brighten up the complexion, while Rejuran healer improves skin quality and minimises the appearance of enlarged pores and acne scars," Dr Ee explains.
"All of these treatments are effective and give significant results if done properly."
Profhilo also deviates from traditional injection techniques that target specific areas of the skin. Profhilo injections are given in 0.2ml doses at 10 selected bio-aesthetic points into the deep dermis to hypodermis layers of the skin. This minimises risk to blood vessels and nerves and maximises efficacy through diffusion.
But the key secret to Profhilo lies in its only ingredient—HA.
"HA is a sugar found naturally in our skin that holds water and helps keep the skin hydrated and plump. The HA within our bodies hold a thousand times its weight in water to not only retain all that moisture in our skin and joints, but also prevent it from evaporating into the air," Dr Ee shares.
Profhilo is made up of 100 per cent pure grade HA, combining high- and low-molecular-weight HA to hydrate the skin on different levels.
The result? A dewy and plumper-looking complexion, firmer and lifted contour, enhanced hydration, and better tissue and scarring repair with no downtime and minimal side effects. These effects can be observed after the second treatment—usually done one month after the first session—and gradually improve over time, lasting between six to 12 months. Profhilo is recommended to be administered twice a year for the best results.
If you are looking for a striking improvement, Profhilo can also be combined with other treatments—at the advice of your doctor. Dr Ee shares that it is commonly paired with skin boosters and Rejuran healer for significant results.
So who is the perfect candidate for this treatment?
"Profhilo is best for anyone who is over 30, or people who have tired, dull and ageing skin." And because it is so minimally invasive, anyone who is suitable for dermal fillers can also give this highly-raved anti-ageing treatment a shot.
Written by Chloe Pek
Source: https://sg.asiatatler.com/style/profhilo-is-the-new-tweakment-you-need-for-youthful-looking-skin