The Aesthetic Treatments You Should Get To Prep Yourself For CNY 2020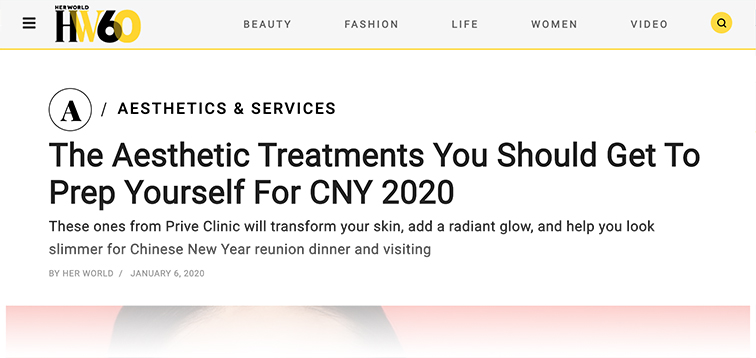 Over time, skin loses its elasticity, lines appear, and sagging begins as gravity takes hold. There's no going back, but there are a number of aesthetic treatments that can help refresh the face for younger-looking skin.
To ensure that relatives seek out your secrets to looking youthful, Profhilo is what your skin needs to look firm and lifted. It is not just another skin booster treatment nor a filler but an injectable with one of the largest concentrations of Hyaluronic Acid in the market!
Launched in Europe a few years ago, this is the first bio-remodelling injectable that uses 100% pure Hyaluronic Acid. This means that it not only boosts and hydrates the skin, but also remodels the aging and sagging tissue. Dr Soh explains why this treatment is gaining popularity, "With little to no downtime, this injectable is carefully administered on five key points on your face. With high concentrations of HA, patients often experience firmer, bouncier, smooth and dewy looking complexion."
For best lifting effects, Profhilo can be combined with energy based treatments such as Ultherapy, Thermage or Exilis Elite. While combining it with fillers, it can compensate for lost of volume and for improvement of scars and pigmentation, the famous Discovery Pico Laser will do the trick!
Written by Her World
Source: https://www.herworld.com/beauty/aesthetic-and-services/aesthetic-treatments-you-should-get-prep-yourself-cny-2020/